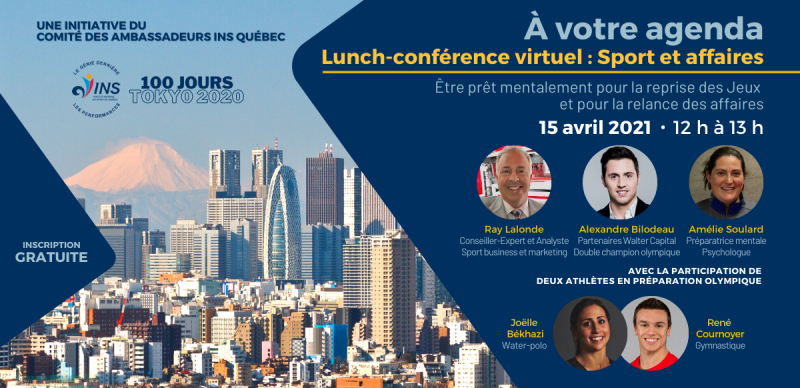 Virtual Lunch Meeting : Sports and business
Be mentally prepared for the resumption of the Olympic Games and for business recovery
Note : This workshop will be delivered in French
The past year has been one of great upheaval for both business people and athletes preparing for the Olympics and Paralympics. Whether it is by pausing activities, postponing the schedule, uncertainties about what will happen next and the necessary "reinvention" towards the "new normal", the two groups must prepare for a big meeting: the Olympic and Paralympic Games for some and the revival of the economy and commercial activities for others. Key elements to achieve this: personal balance and mental preparation.
During this Virtual Lunch Meeting organized by the INS Québec Committee of Ambassadors, high-level athletes, sports personalities and a professional from INS Québec will come and talk about the importance of being mentally prepared to prepare to face challenges. Whether it is for the athletes who will be going to Tokyo this summer or for the business recovery, this round table should make it possible to identify "practical" applications of the athletes' experiences that can be applied in the reality of the business community.
Moderated by Ray Lalonde, an expert advisor and analyst in sports business and marketing, this round table will bring together the double Olympic champion Alexandre Bilodeau, member of the INS Québec Committee of Ambassadors, two athletes who will be in Tokyo next summer, including the waterpolo player Joëlle Békhazi and gymnast René Cournoyer, as well as Amélie Soulard, mental preparation consultant and psychologist at INS Québec.
Registration: Free
Registration Deadline : April 14, 2021, noon
A link to join the videoconference will be sent the day before the activity.
Ray Lalonde
Expert advisor and Analyst
Sports business and marketing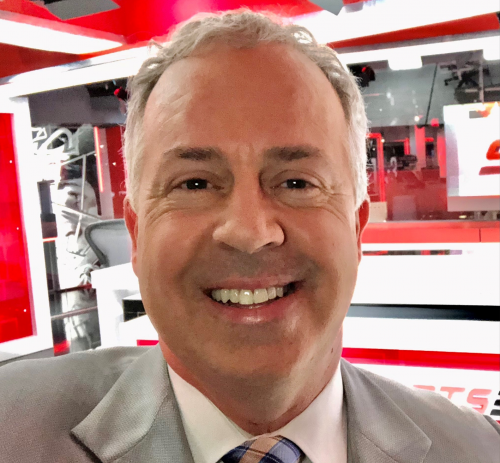 Ray Lalonde is well known to the general public thanks to the unprecedented success following his stint with the Montreal Canadiens where he completely transformed the brand and the popularity of the team for almost 10 years. He has now had his own business for four years specializing in strategic planning and consulting for events, leagues, associations, clubs and companies playing or having interests in sport. He has 29 years of experience in the sports industry including assignments with the NCAA Penn State Nittany Lions, NFL Europe, NBA in New York and Paris, Montréal Canadiens , Montréal Alouettes and the Canadian Olympic Committee.
Alexandre Bilodeau
Investment Associate, Walter Capital Partners
Double Olympic champion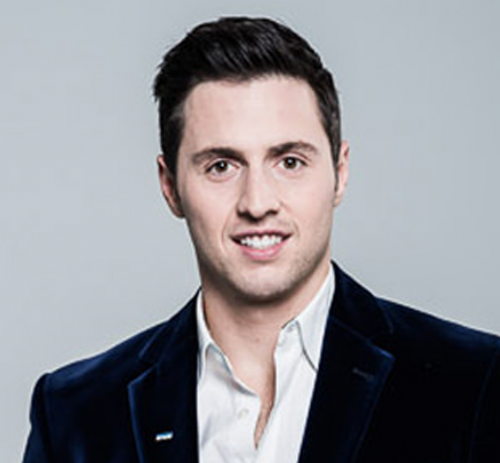 Alexandre Bilodeau joined the Walter Capital Partners' team as an Investment Associate in 2019. As part of his role, he is actively involved in evaluating potential acquisitions, conducting due diligence on new investment opportunities and monitoring portfolio companies. Before starting his professional career in accounting and finance, Alexandre competed in freestyle skiing at international level. Over his nine years on the World Cup circuit, he won multiple World Championship honours. He won his first Olympic gold medal in Vancouver in 2010 and he repeated the exploit in 2014 in Sochi.
Amélie Soulard
Mental Performance consultant and Psychologist
INS Québec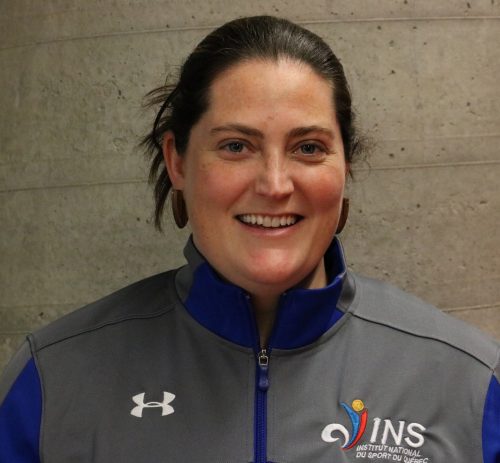 Amélie Soulard holds a Ph.D. in Organizational Psychology from the Université de Sherbrooke (2016) and a Master's in Sport Psychology, Pedagogy and Intervention from the University of Ottawa (2003). She has been supporting athletes in their mental preparation at the Espoir, Relève, Élite et Excellence levels since 2010.  At INS Québec, Amélie works, among other things, as a mental coach with the para-swimming and boccia groups and is involved as a provider in the Advanced Coaching Diploma.
Joëlle Békhadi
Water Polo Player, Water Polo Canada
Ongoing Olympics training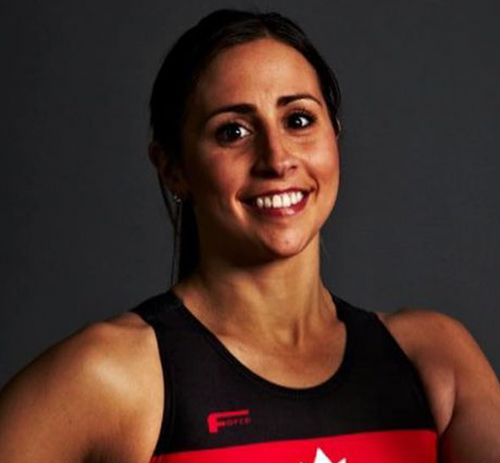 Joëlle Békhazi was named to the junior national team at age 16, going on to compete at the 2005 and 2007 World Junior Championships. After moving up to the senior ranks, she helped Canada win silver at the 2007 , 2011 and 2015 Pan American Games. Bekhazi was part of two major medal-winning teams in 2009 as Canada captured a first-ever silver in the FINA Water Polo World League followed by silver at the FINA World Championships. She also won silver at the 2017 FINA World League Super Final.
René Cournoyer
Gymnast, Gym Canada
Ongoing Olympics training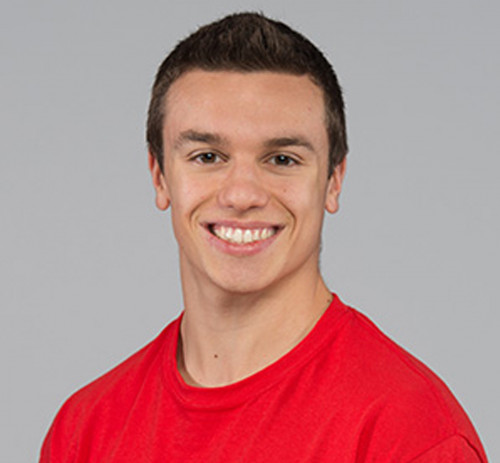 René Cournoyer started doing gymnastics at age 7 because he wanted to do acrobatics. He qualified himself for the 2020 Olympic Games at the 2019 World Championships. In 2018 he became a Canadian A-Around Champion and medalist on every event. In 2018, he won a silver medal with his team at the Commonwealth Games. He has been a Team Member at the World Championships for three years (2015, 2017, 2018).