INS Québec has saved more than 50,000 training sessions
 August 10, 2022
INS QUÉBEC HAS SAVED MORE THAN 50,00 TRAINING SESSIONS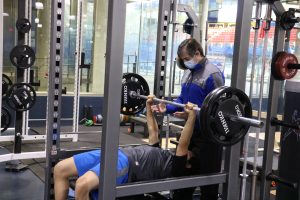 In June 2020, the Institut national du sport du Québec (INS Québec) developed a very strict sanitary protocol to allow high-performance athletes to continue training despite the closing of training centers and other sports venues. Approved by Public Health and the Ministère de l'Éducation, the set of sanitary measures implemented at the Complexe and other approved training sites for high-performance athletes saved 51,185 training sessions during these critical periods for the preparation of athletes for the Olympic and Paralympic Games in Tokyo (summer 2021) and Beijing (winter 2022).
Moreover, the data shows that 90,914 training sessions took place between June 2020 and February 2022. This means that training that took place during periods when other sports venues were closed accounted for 56% of total training.
At the Complexe of INS Québec alone, 36,283 training sessions took place during the closed periods.
Sylvain Gaudet and Simon Deguire, exercise physiologists, and Thomas Romeas, lead of research and innovation, of the Institute, collaborated with a group of students specialized in data visualization from Polytechnique Montréal. The goal was to measure the impact of the INS Québec health protocol on the preparation of Québec's high-performance athletes during the COVID-19 pandemic, in particular on their ability to continue training during the shutdown phases. The students therefore developed a system for analyzing data collected between June 2020 and February 2022 from the entry form that each athlete must complete before accessing their training site.
Supported by scientific data, the health protocol developed by INS Québec's medical and scientific specialists has had a major impact on the preparation of athletes for the Olympic and Paralympic Games. Another initiative that is in line with the Institute's desire to be "the ingenuity behind the performances."
-30-