(Top row: Luc De Garie, Suzanne Leclerc, François Bieuzen, Julien Clément, David Jeker, Sylvain Gaudet, Simon Deguire.
Bottom row: Thomas Romeas, Lily Dong and Florence Morin.)
INS QUÉBEC'S ENRICHING EXPERIENCE IN PARIS
Learning never stops at the Institut national du sport du Québec, even when it's explicitly shared internationally! A dozen team members crossed the Atlantic Ocean to take part in the 28th Annual Congress of the European College of Sport Science, in Paris. INS Québec not only participated actively, but also highlighted its own contributions.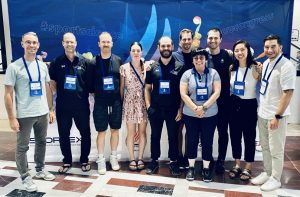 INS Québec experts François Bieuzen, Luc De Garie, David Jeker, Florence Morin, Julien Clément, Sylvain Gaudet, Suzanne Leclerc, Simon Deguire, Lily Dong and Thomas Romeas were among the 2,300 participants at this international conference, a veritable crossroads for advances in sports science and medicine.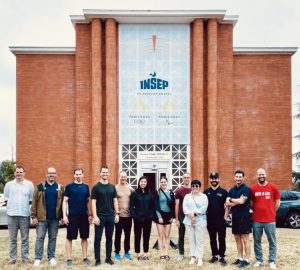 The event program kicked off with a visit to the Institut national du sport, de l'expertise et de la performance (INSEP), offering delegates a unique opportunity to discover Paris' world-renowned sports facilities. The following days were punctuated by a series of ECSS conferences covering a wide range of topics from biomechanics to exercise physiology and sport psychology.
One of the highlights of the event was the presentation of six recent INS Québec research activities. These presentations highlighted the latest discoveries made by the institute and its performance partners, which captivated the international scientific community. Topics covered included hypoxic training, virtual reality, cognitive capacity assessment and the evaluation of monitoring tools.
In addition to showcasing INS Québec's advances, the event was an opportunity to raise the Institute's profile on the international stage.
"We seized this opportunity to raise the profile of INS Québec by brilliantly sharing some of our most recent discoveries," said François Bieuzen, Director of Sport Science at INS Québec.
The ECSS also enabled INS Québec to draw inspiration from the latest scientific discoveries to update some of its practices or influence its research and innovation work, thus ensuring excellence in the quality of services provided to athletes.
"We knew that the ECSS was a reference congress on the international scientific scene, and represented a unique opportunity to share expertise with the best scientists from around the world. We were not disappointed! The level was exceptional and the meetings of the highest calibre. We're extremely pleased to have been able to keep abreast of the latest advances in sports science and medicine, which we're already sharing with our partners," mentioned François Bieuzen.
With the Paris 2024 Olympic Games just a year away, it was also a unique opportunity for the team of experts to familiarize themselves with the city and its facilities.
The visit took place within the scope of the Programme d'échange franco-québécois en matière de sport de haut niveau.
INS Québec experts' conferences
Title: Multi-domain assessments of cognitive functions in elite athletes according to their sport type and sex: preliminary results
Authors: ROMEAS, T., VONA, M., DESLAURIERS, J., LECLERC, S., DE GUISE, É.
INS Québec, Université de Montréal
The cognitive abilities of top athletes are not systematically superior to those of the general public. Cognitive performance varies according to type of sport and gender, with sometimes specific advantages for cognitive flexibility and selective attention in speed and strength sports, and faster reactivity in men.
Title: The effects of presentation mode on gaze behavior between 360vr and 2d-video broadcast in a boxing specific task.
Authors: LOISEAU TAUPIN, M., JUSTE, L., ROMEAS, T., LABBÉ, D.
INS Québec, École de technologie supérieure, Boxe Québec
Virtual reality is tested against 2D video to assess visual behaviors when anticipating boxing moves. Results indicate that virtual reality elicits more eye movements, suggesting its usefulness in sports cognitive training.
Title : The interactions of exercise intensity, modality, and duration on concurrent executive function performance among highly trained athletes
Authors: DONG, L., ROMEAS, T., VINCENT, T., BHERER, L., BERRYMAN, N.
INS Québec, Université du Québec à Montréal, Institut de cardiologie de Montréal
This study shows that even in experienced water polo athletes, intense exercise, whether constant or interval, reduces cognitive performance, especially when exercise is prolonged. Task complexity also plays a role.
Title : Comparison of sleep heart rate variability measured with the oura® ring to a conventional morning measurement with a heart rate monitor
Authors: MORIN, F., JEKER, D., GOULET, E.D.B., BIEUZEN, F.
INS Québec, Université Sherbrooke, Soccer Québec
This study involving female soccer players compares the measurement of heart rate variability (HRV) during the night with a ring worn on the finger (Oura Ring) to the measurement of HRV in the morning at rest with a conventional device. The results show that nocturnal HRV is more useful for assessing fatigue than morning HRV. What's more, athletes found the Oura Ring more convenient, making it a promising option for monitoring their fitness.
Title : Analyzing the water polo eggbeater: reliability and validity of a novel approach
Authors: CLÉMENT, J., LANOÉ, E., CROTEAU, F.
INS Québec, École de technologie supérieure, Water Polo Canada
This study evaluates the reliability and validity of an aquatic strength test for water polo players. Preliminary results show high reliability for many strength variables, with elite female players outperforming sub-elite players. However, larger studies are needed to confirm the importance of certain variables.
In short, the aquatic strength test appears reliable for assessing performance, particularly the ten-second test.
Title : Speed and power improvements derived from hypoxic repeated-sprint training in world-class short-track speed skaters are influenced by the anaerobic speed reserve
Authors: BILLAUT, F., DEGUIRE, S., BIEUZEN, F.
INS Québec, Université Laval, Patinage de vitesse courte piste Canada
This study explores the effects of hypoxic sprint cycling training on world-class short-track speed skaters with varied physiological profiles. Results show that this training improved on-ice speed and anaerobic capacity in skaters, particularly those with a more endurance-oriented profile.