Athletes and their coaches ask themselves many questions in their quest to gain precious hundredths of a second, make their movements more efficient or achieve perfect form. Thanks to its expertise, the scientific team at INS Québec is able to provide athletes and coaches with personalized answers and advise on various key elements of sports performance.
Even more questions can now be answered thanks to a new addition to the team — Julien Clément.
As a biomechanical engineer and doctor, Julien helps athletes and coaches make performance determinants more concrete and quantifiable. His expertise allows coaches and their athletes to measure and quantify movements, power, effort or even training load, to name just a few aspects of sports performance where movement analysis can be useful and beneficial.
According to Mathieu Charbonneau, who has worked at INS Québec as a Sports Biomechanic since 2009,
"We are now able to offer services that were considered virtually impossible before Julien arrived." Our new recruit is passionate about concrete problems and ways in which he can directly apply his expertise: "I work on the biomechanical details that will make a difference. In any area where movement occurs, innovative and cutting-edge techniques now allow us to identify relevant adjustments to be made with increased acuity."
To summarize Julien Clément's work, once the vast amount of movement data has been collected, he draws out the information relevant to the initial objective, performs the necessary analyses and identifies solutions that are appropriate to the situation. These quantitative results make it possible to provide concrete advice. He then generates relevant and intelligible reports that coaches use to make well-informed decisions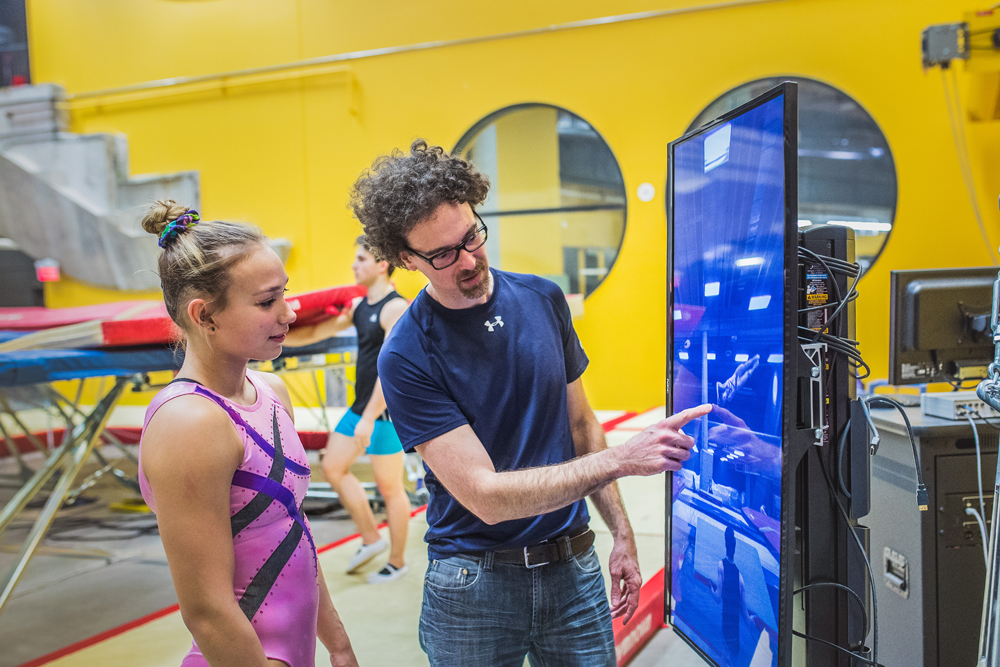 "The data to be reviewed and the conclusions to be communicated are determined based on previously established objectives. We are able to offer quantitative solutions more quickly and for an increased number of sports thanks to Julien's contribution. Previously, a significant proportion of movement analysis was completed using video analysis only, and was often subjective," explained Mathieu Charbonneau. The analysis methods developed allow areas of improvement to be identified and quantitative corrections to be obtained.
"In paraswimming, we placed accelerometers on the athletes' sacrum. The data collected allowed us to calculate their instantaneous speed, as well as signs of movement symmetry and arm-leg coordination, which enabled us to provide useful and easy technical recommendations to be put into practice," said Julien Clément. "For example, we made several recommendations to an athlete and then returned to introduce further actions a few weeks later. The data showed a clear improvement in propulsion efficiency," he added.
"The possibilities of applying the analytical techniques that Julien develops are endless. This work will therefore be continued and applied to other sports," added Guy Thibault, the Institute's Sports Science Director.