Marc Desjardins To Be the Next CEO of INS Québec
 May 23, 2023
MARC DESJARDINS APPOINTED PRESIDENT AND CHIEF EXECUTIVE OFFICER OF INS QUÉBEC
"Beyond his experience in sports, it is primarily through his expertise in marketing and strategic development that Marc Desjardins has distinguished himself."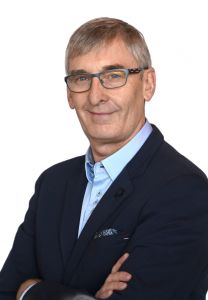 Jean R. Dupré, Chair of the Board of Directors of the Institut national du sport du Québec (INS Québec), is pleased to announce that Marc Desjardins will be the next President and Chief Executive Officer of the organization, effective July 31. Well known in the sports community, Marc Desjardins is currently Executive Director of the Fédération québécoise d'athlétisme.
"Beyond his experience in sports, it is primarily through his expertise in marketing and strategic development that Marc Desjardins has distinguished himself. We were looking for someone who was in line with our commitment to expand our presence and optimize our revenue generation activities. Marc demonstrated that he had all the skills and expertise we were looking for. He also has the aptitude to fit into the existing structure in order to work agilely with our group of leaders and our seasoned team of managers, experts and employees."
Jean R. Dupré
Chair of the Board of Directors

"Few positions are comparable to that of the CEO of INS Québec. I thank the Institut's Board of Directors for the privilege they have given me to help improve the performance of our athletes. I am excited to begin working with this renowned team as well as with our partners on the front lines and in the sport community, both in Québec and in Canada. If the Institut's mission is to support athletes, it comes with an important responsibility: to ensure the sustainability of this mission. This is what will motivate me from day one".
Marc Desjardins
President and CEO appointed
Marc Desjardins
Marc Desjardins holds an MBA and a bachelor's degree in Physical Activity Sciences. He comes to INS Québec with a diversified and proven expertise in analysis, strategic planning, management and marketing (B2B and B2C). A skilled negotiator who has developed several strategic alliances, he has a track record of success in funding and philanthropy.
Before joining the Fédération québécoise d'athlétisme, he held several marketing management positions, notably with a start-up company, at the Réseau des sports (RDS), and at SPORTSQUÉBEC. He has also been a high-performance coach in para athletics for over 20 years. He has been a member of the board of directors of the Fondation Sport-Études since 2006 and was its president from 2013 to 2015.
The Transition Moves Ahead
The appointment of Marc Desjardins means that the next step of the process can be foreseen achieving a planned and orderly transition while ensuring the stability of the organization. The current CEO, Gaëtan Robitaille, remains in his role until Marc Desjardins' installation. After a period of collaboration for integration, support and knowledge transfer with his successor, Gaëtan Robitaille will continue with INS Québec as a strategic advisor. He will be fulfilling special assignments until he leaves as planned in the fall of 2024, after the Olympic and Paralympic Games in Paris.
– 30 –