Change of the Gard at the Sports Science Department
 April 4, 2022
CHANGE OF THE GUARD AT THE SPORTS SCIENCE DEPARTMENT OF INS QUÉBEC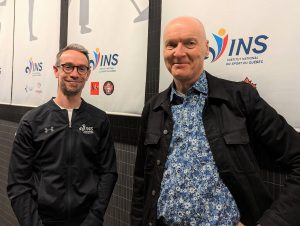 François Bieuzen, PhD, a renowned exercise physiologist, assumed the position of Director, Sports Sciences at the Institut national du sport du Québec (INS Québec) in early April. He succeeds Guy Thibault, PhD, who is retiring after a fruitful career spanning nearly 40 years, with the last five as the Scientific Director of the INS Québec.
With a department that has experienced unprecedented growth under his leadership, Guy Thibault's time at the Institute has been significant. "Under Guy Thibault's leadership, the INS Québec has become a hub for research in high performance sport," says Gaëtan Robitaille, President and CEO of the INS Québec. "His main legacy is to have inspired a new way of using sports science to support high-performance athletes and the specialists who coach them. For him and his team, the primary goal of scientific work is to improve performance through research and innovation, in particular by getting sports stakeholders to integrate science into their toolbox."
With a group of nearly 50 scientists conducting no less than 80 research and innovation activities, François Bieuzen intends to build on the vision and collaboration of his predecessor. "Guy Thibault asked the team to try to 'guess the future', as he likes to say, and also to put the talents of all employees of the organization to work on ideas, not only those of our department. His quiet but most inspiring leadership has brought several groups to work closely together."
"When I look back over the past five years, I am particularly proud of the quality and depth of the team we have built. This has allowed us to tackle a greater diversity of scientific disciplines," says Guy Thibault. "We have also succeeded in creating a dynamic that focuses on the next generation of scientists, especially by mentoring young scientists who are doing very high-level work and who are brilliant. And that is a service to the Canadian teams preparing for the major Games.
The Institute has posted an article on its website about Guy Thibault and his contribution to INS Québec.
François Bieuzen, PhD
François Bieuzen joined INS Québec in 2016. He holds a PhD in Human Kinetics and is a specialist in recovery (sleep, recovery strategies and equipment). He advises high-level training groups on fatigue and training load management, as well as injury prevention. He is also involved in research activities with various Canadian and international scientists. Among his mandates prior to his appointment, he was the Integrated Support Team Leader for the National Short Track Speed Skating Team with whom he attended the Beijing 2022 Olympic Winter Games.
– 30 –
Guy Thibaul in the media
The daily newspaper La Presse devoted a stroy to Guy Thibault on  his departure from INS Québec.
Click to read the article (in  French)
Photo – Martin Chamberland, La Presse