At the Olympic and Paralympic Games, small differences often separate medallists from other competitors. Athletes must therefore have the latest scientific and technological advances to better leverage their talent, efforts and commitment.
The INS Québec complex houses analysis and physical preparation equipment, performance analysis, research and innovation laboratories as well as sports facilities hosting many sports. All these facilities constitute a multidisciplinary environment in which sports scientists offer a multitude of services used for prevention, monitoring training and improving athlete performance.
The Sports Sciences department has several missions:
to offer world-class performance services,
to provide high-end equipment to high-level training groups
and to remain at the cutting edge by playing the role of research hub, innovation and the dissemination of information in high-performance sport in Québec.
Research, innovation and the dissemination of information are at the heart of INS Québec's mission. Scientific activities are carried out in INS Québec's laboratories and in partnership with university research units and private companies.
Sports Sciences at INS Québec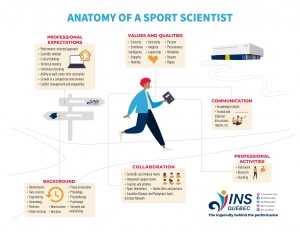 Sports Science Internships
The Sports Science Service regularly welcomes interns from different sectors. Applications are examined each semester according to Institut's needs.
Internships are exceptional opportunities for immersion in the world of high-performance sport. Put your knowledge into practice while contributing to scientific services!
The current topics of internships in kinesiology concern, for example monitoring training load, measuring strength, decision-making or physiological, biomechanical and physical and mental preparation assessments. The INS Québec scientific team also welcomes students in computer engineering and signal processing.
Students who wish to carry out internships in high-performance sports sciences can send their resume and specify their motivations to emploi@insquebec.org.
Our experts in sports sciences