2021 RBC TRAINING GROUND
The future is looking promising for several athletes from Quebec
The RBC Training Ground Program announced in October the top 100 athletes invited to compete in the national finals. These athletes, who have an Olympic potential, were selected among 4,000 participants who registered for the RBC Training Ground events in person or virtually in the past few months. Their goal was to be selected by one of the nine national sport organizations which are partners of the RBC Training Ground.
On Thursday, November 10th, 18 athletes, including 14 from Quebec, had the opportunity to demonstrate their potential at the McGill University sports facilities in Montreal. The athletes were able to test their power, speed, endurance and strength against sport-specific skills in a series of events conducted in front of program officials and the Canadian Olympic Committee and supervised by experts from the Institut national du sport du Québec (INS Québec).
"Every year, the next generation of athletes show us their desire to perform at the top of their game. With last year's tests having to be done mostly virtually, the athletes were very happy to be able to perform in person in a more dynamic environment," said Gaëtan Robitaille, President and CEO at INS Québec.
Quebec was the second stop on the national tour right after Nova Scotia. Because athlete safety is a priority, the decision was made to hold a portion of the National Finals in each of the major regions of Canada to avoid inter-provincial travel. A Covid-19 rapid test was mandatory for each athlete upon arrival and each physical test was performed inside four Plexiglas walls. Each station was also disinfected after each use. The finals continue on Sunday with Ontario, followed by Saskatchewan, Alberta and British Columbia.
Of the top 100 athletes selected from across Canada who are currently competing for a spot on the Canadian Olympic team, 30 will have the opportunity to receive funding.
Below is the list of the 18 athletes who participated in the Quebec final:
Order of passing on Thursday November 10th, 2021
Alix Plomteux – Lac-Beauport, QC
Alexis Hurteau – Montréal, QC
Jules Lefebvre – Montréal, QC
Alexandre Duchaine – Lac-Beauport, QC
Sarah Faith – Montréal, QC
Élodie Caron – St-Bruno-de-Montarville, QC
Naomy Boudreau Guertin – Boischatel, QC
Maël Rivard – Ottawa, ON
Béatrice Olson – Ottawa, ON
Mark Zielonka – Ottawa, ON
Jake Stevens – Halifax, NS
Sarah-Maude Cloutier – Québec, QC
Émile Nadeau – Prévost, QC
Victor Primeau – Lac-Beauport, QC
Antoine Bérubé – Saint-Sauveur, QC
Anouk Martin – Montréal, QC
Jean-Nico Lapointe – Montréal, QC
Andrik Terauds – Beaconsfield, QC
The warm-up exercises as well as the power, speed, endurance and strength tests were administered in Montreal by experts from INS Québec.
INS Québec Team
From left to right : Evelyne Dubé, Florence Morin, Claudie-Anne Leblanc et Simon Deguire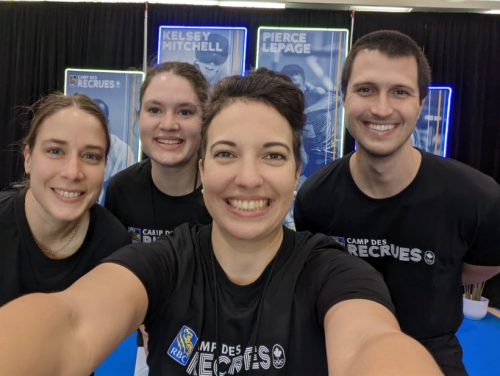 Canadian Olympic Committee:
Jaime Sorenson – Event Lead
Evan MacInnis – Secondary Contact
INS Québec Experts:
Simon Deguire – Physiologist, INS Québec
Evelyne Dubé – Medical and scientific technical advisor, INS Québec
Florence Morin – Intern at INS Québec / 3rd year student in Kinesiology at the University of Sherbrooke
INS Québec Logistics & communication:
Claudie-Anne Leblanc – Coordinator, Digital Communication & Events, INS Québec
***
What is RBC Training Ground?
RBC Training Ground is a talent identification and athlete funding program designed to find young athletes with Olympic potential, and provide them with the resources they need to achieve their podium dreams. With the belief that high performance sports should be accessible to all athletes that are talented, qualified and have the will to compete, this program travels the country searching for athletes between the ages of 14 and 25 that will fuel the Canadian Olympic pipeline.
What are the nine National Federations partnering with the 2021 RBC Training Ground?
Canoe Kayak Canada, Cycling Canada Cyclisme, Freestyle Canada, Rowing Canada Aviron, Rugby Canada, Speed Skating Canada | Patinage de vitesse Canada, Boxing Canada, Nordic Combined Ski Canada Combiné Nordique, Ski Jump Canada Saut À Ski
For more details: rbctrainingground.ca