[PART TWO] SIX SEASONED COACHES FOR THE NEW COHORT
OF THE ACCÉLÉRATEUR D'APPRENTISSAGE PROGRAM
Earlier this week, we introduced you to three of the six coaches in the 2023-2024 cohort of the INS Québec Accélérateur d'apprentissage (Learning Accelerator) program. To round off National Coaches Week on a high note, here are the three coaches who complete the group.
Jean-David Gaudreault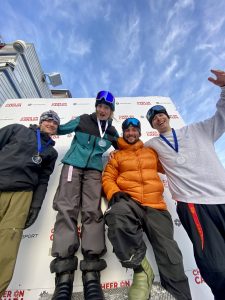 Jean-David has been a freestyle ski coach specializing in the big air and slopestyle disciplines for nine years. He completed a bachelor's degree in sports intervention with a specialization in competitive development coaching. He is currently the head coach of the Québec team and has been with the Québec Freestyle Ski Federation since 2020. In addition, from 2020 to 2022, he held the position of Sports Development Coordinator with the same federation. His role involves coaching athletes competing on the Canadian and North American circuits. This was his first experience representing Canada at the World Junior Championships.
Q : Why did you choose to take part in the Learning Accelerator program?
Jean-David : I decided to take part in the program to further develop my coaching skills and gain new development experience. This program will enable me to continue my training despite a very busy coaching schedule.
Q : Tell me a story about coaching.
Jean-David : I don't have a specific anecdote, but I can say that coaching has given me the opportunity to travel the world alongside exceptional athletes. I'm extremely grateful to be able to accompany them in their development and to live the countless experiences that the world of sport has in store for us.
Stéphanie Valois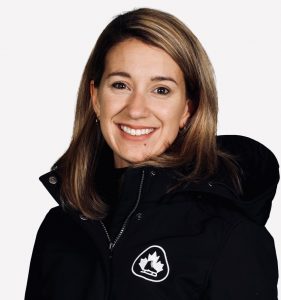 (Photo Credit: Skate Canada)
Stéphanie is a figure skating coach. With a bachelor's degree in Communication Sciences, she turned to the world of coaching 18 years ago. A former member of the junior national team, she now accompanies athletes on the national and international scene to help them achieve their greatest dreams. A trainer and evaluator for Skate Canada, she is committed to the development of both athletes and coaches. Her daily mission: to help each athlete reach their full potential, and to remain a merchant of happiness for all the young people who cross her path.
Q : Why did you choose to participate in the Learning Accelerator program?
Stéphanie : It's an opportunity to apply a self-analysis approach, thanks to the in-depth knowledge and exchanges with the other coaches in the cohort, as well as with the program facilitators. I'm a big fan of Marc-André and Coach Frank! In my impending desire to push my thinking and challenge myself, I consider my selection for this cohort to be a high point in my career. I intend to invest 200% in this project.
Q : What is your fondest memory as a coach?
Stéphanie : One of my fondest memories is seeing one of my athletes rediscover the joys of skating after beating cancer. For me, that moment refocused me on what's essential in sport: the simple joy of exercising one's passion. When the pressure mounts in moments of major competition, I remember these moments that put life back into perspective. There's nothing more gratifying for me than to accompany an athlete over the years and see him grow through the good times and the bad.
Gabriel Sylla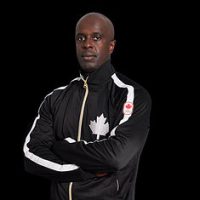 Gabriel is an elite-level trainer with the World Karate Federation. An international high-performance consultant with over 30 years' experience in strength and conditioning, he created Sylla-Fitness, a strength and conditioning service, in 2008. He is co-founder and technical director of the Centre sportif de haute performance de Montréal, as well as founder and head coach of Montréal's Karaté Dragon Noir club.
Q : Why did you choose to participate in the Learning Accelerator program?
Gabriel : I'm passionate about my art and coaching. I'm a full-time trainer, and this program came at the perfect time to get me out of my comfort zone and improve.
Q : Tell me an unusual coaching-related anecdote.
Gabriel : In 2017, at my first African Championships with the Senegalese national team, I was confronted with a situation I'd never seen in my 25-year career. Our team qualified for the final against the host country and four hours before the final, our best athlete got lockjaw and started delirious. Then one of the coaches fainted.
Our team manager went across town to find a Senegalese marabout, who gave him mystical water. Before the final, we all did our ablutions with the potion and prayed! And we won, in a stadium filled with 15,000 people!