(From left to right: François Rodrigue, Marc-André Duchesneau, Geneviève Houle, training and development services advisor of INS Québec, Antoine Valois-Fortier, Gabriel Sylla, Claudel Mey-Plouffe and Isabelle Leclaire)
SIX SEASONED COACHES FOR THE NEW COHORT
OF THE ACCÉLÉRATEUR D'APPRENTISSAGE PROGRAM
The 2023-2024 cohort of the INS Québec Learning Accelerator program took off at the beginning of the month. This program is a unique professional development opportunity offering individualized and group coaching to coaches wishing to explore in greater depth the learning acquired in a National Coaching Certification Program course.
To support participants, two coaching performance advisors have been appointed: François Rodrigue and Marc-André Duchesneau. The advisors are responsible for enriching the learning of high-level coaches who have been selected to take part in this program. To mark National Coaches Week, which runs from September 16 to 24, we present three of the six coaches in the new cohort.
Isabelle Leclaire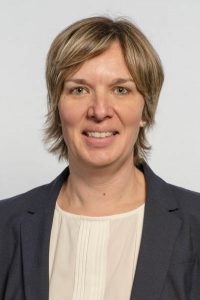 (Photo Credit: Carabins de l'Université de Montréal)
Isabelle has been head coach of the Université de Montréal Carabins since the program's inception in 2009. She holds a bachelor's degree in kinesiology and is a graduate of the Advanced Coaching Diploma. The Lachine native also played goalie for 20 years, including with the Québec senior team, and participated in several Canadian national team camps. You may have already seen her at RDS, where she is a description analyst for international women's hockey games!
Q : Why did you choose to participate in the Learning Accelerator program?
Isabelle : It's a logical step in my coaching career. I've always wanted to become a better person and a better coach. With one-on-one coaching, you can directly target your day-to-day issues and really focus on things that will help you right away. Working with a coach who will get to know me and talk to me on a regular basis, seeing me in my environment, possibly in action, etc. will certainly bring new elements from a different vision. In the end, it's like a tailor-made program! It was an opportunity I had to take to continue my professional development. I didn't hesitate for a second to apply!
Q : Tell me a funny anecdote about your coaching career.
Isabelle : I remember we left an athlete in the changing room when we used to put a lock on the last one out. The problem was, the last player out didn't know there was a girl in the bathroom! The joke was always that I couldn't count. Well, this time the proof was in the pudding! I was counting the group on the ice and I always had the feeling that someone was missing, but I couldn't figure out who it was! I figured someone must have forgotten to tell me she had a class! But no, she'd got stuck in the changing room and, in those days, not all young people had cell phones, so she took a nap until practice was over!
Antoine Valois-Fortier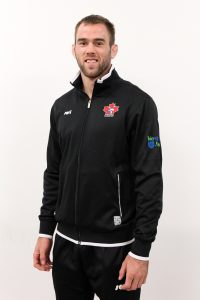 (Photo Credit: Judo Canada)
Antoine Valois-Fortier made his mark as a judoka before devoting himself to coaching since 2021. A three-time world championship medallist, Antoine won bronze at his first Olympic Games in London in 2012, making him the first Canadian judoka to win an Olympic medal since his coach Nicolas Gill's medal at the Sydney Olympics. And the list of his sporting achievements could go on and on! Born in Québec City, he now lives in Montréal. Antoine holds a bachelor's degree in kinesiology from the Université du Québec à Montréal, a DESS in sports management from HEC and is a graduate of INS Québec's Advanced Coaching Diploma program.
Q : Why did you choose to take part in the Learning Accelerator program?
Antoine : I'm a big believer in continuing education for coaches, and I really enjoy learning from coaches in other disciplines. I saw it as a great opportunity to learn from coaches and practitioners more experienced than myself.
Q : What is one of the highlights of your coaching career?
Antoine : Having never been a world champion myself as an athlete, I have fond memories of coaching Christa Deguchi to her gold medal at the World Championships in 2023. For me, it was a dream to live a day like that!
Claudel Mey-Plouffe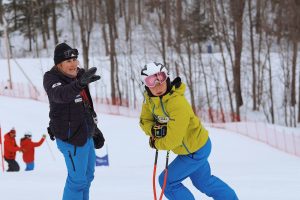 Originally from Abitibi-Témiscamingue, Claudel moved to the Laurentians nearly 15 years ago to pursue her academic and athletic career at the Augustin-Norbert-Morin ski-étude. In 2016, Claudel began her studies in physical education teaching while continuing her progression as a ski coach. After a formative stay with an Élite team in the Laurentians, she continued her professional development with the Québec women's team. For the past two years, she has been working daily with a team of ambitious and motivated athletes.
Q : Why did you choose to take part in the Learning Accelerator program?
Claudel : I chose to take part in the program to be able to pursue my professional development. For me, it's important to be inspired by other coaches and to be supported by experienced coaches. Taking a critical look at my professional practices, putting forward new projects, exchanging with other coaches and learning new concepts related to my profession will enable me to expand my professional toolbox and at the same time benefit the athletes of Team Québec.
For me, working with athletes is more than a job, it's a passion and, above all, a way of helping young athletes reach their full athletic and human potential, ultimately enabling them to flourish in their sport.
Q : Tell me about one of your fondest memories as a coach.
Claudel : One of the memories that comes to mind when I think of my coaching career is the outdoor sports sessions at the end of the day in Chile. Enjoying a moment with the athletes while watching the South American sunset. These are simple moments imbued with serenity and sincerity. It's during these moments that I realize how lucky I am to be able to make a living from my passion.