Appointment of Dr. Suzanne Leclerc as Chief Doctor for the 2023 Pan American Games
 July 12, 2023
INS QUÉBEC WELCOMES THE APPOINTMENT OF DR. SUZANNE LECLERC AS CHIEF DOCTOR FOR SANTIAGO 2023
NUTRITIONNIST EVELYNE TELMOSSE WILL ALSO BE PART OF THE DELEGATION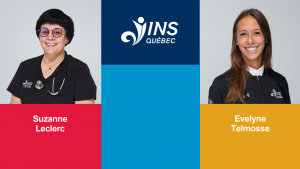 The Institut national du sport du Québec (INS Québec) proudly welcomes the appointment announced today by the Canadian Olympic Committee (COC) of its Medical Director, Dr. Suzanne Leclerc, as Team Canada's Chief Doctor for the 2023 Pan American Games to be held in Santiago, Chile. Dr. Leclerc's responsibilities will include overseeing daily interventions during the event. Evelyne Telmosse, INS Québec nutritionist, will also join the team of experts as Performance Dietician. These appointments once again confirm the quality of the INS Québec team members.
"I have already participated in three Pan American Games, and these will be my first as Chief Doctor. I would like to thank the Canadian Olympic Committee for this honour. It's a privilege to be able to work with the mission team to ensure optimal health services during the Games. The collaboration between the various professionals (doctors, physiotherapists, sport therapists, massage therapist, sports psychologist, nutritionnist and performance services) makes these major events unique and highly rewarding. The planning has been underway for some time now, and I'm convinced that we'll be able to provide athletes with the support they need to deal with a wide range of situations," mentions Dr. Leclerc.
"Dr. Suzanne Leclerc's exceptional expertise and unwavering commitment to athletes testify to her determination to accompany them on their path to success. The selection of Dr. Leclerc and Evelyne Telmosse demonstrates the excellence of the INS Québec team and their commitment to supporting Canadian athletes in their quest for excellence," says Roger Archambault, Vice-president, Performance Services at INS Québec.
"Nutrition plays an important role in performance, but it certainly plays an essential role in an athlete's well-being. To see what Canadian athletes have in their bellies, we first need to make sure they're well fed! It takes a whole team to ensure the success of our athletes, and I'm more than excited to have the opportunity to support our Canadian crème de la crème in a tangible way!", exclaims Evelyne Telmosse.
Dr. Suzanne Leclerc
A member of the INS Québec team since 2011, Dr. Suzanne Leclerc was part of the medical team at the 2012 Summer Olympic Games in London and several Pan American Games (2011, 2015 and 2019). She has also worked with various national teams over the past 25 years. In particular, she was the doctor for the women's national hockey team from 1998 to 2005, including an appearance at the Salt Lake City Winter Olympics. In addition, Dr. Leclerc was the head physician of the national short-track speed skating team from 2003 to 2018, and accompanied the team to the 2006, 2010 and 2018 Winter Olympic Games.
Evelyne Telmosse
Evelyne Telmosse, nutritionist at INS Québec since 2020, will be responsible for planning, preparing and organizing the nutrition of Canadian athletes taking part in the Pan American Games, both before the competitions and on-site in Santiago. Working with the short-track speed skating team and Cirque du Soleil artists, among others, she got a taste of what's to come when she accompanied the Québec athletes who took part in the Canada Games in summer 2022 and winter 2023.
The Pan American Games will take place from October 20 to November 5, 2023, in Santiago, Chile.