A well-deserved honour for Tom Quinn
 June 18, 2020
A WELL-DESERVED HONOUR — TOM QUINN TO BE INDUCTED INTO THE HALL OF FAME OF THE PANTHÉON DES SPORTS DU QUÉBEC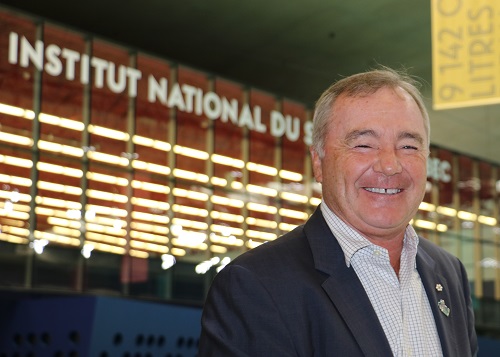 Montréal, June 18, 2020 — It is with a great deal of pride that the Institut national du sport du Québec (INS Québec) learned today that Tom Quinn, its Chair of the Board of Directors, is one of seven individuals who will be inducted into the Hall of Fame of the Panthéon des sports du Québec. This recognition in the Builder category highlights Mr. Quinn's outstanding and extraordinary contribution to sport in Québec.
"Tom Quinn's vision and leadership have been instrumental to the organization's growth, so much so that INS Québec is now regarded as an essential performance partner among the high-performance sport communities in Québec and Canada," said François Racine, Vice-President of the Board at INS Québec. It is because INS Québec can count on accomplished people like Tom Quinn that we can proudly display our slogan "The ingenuity behind the performance."
A former high-performance badminton player, Mr. Quinn joined INS Québec in 2013 as Chair of the Board of Directors. As well as INS Québec, numerous institutions have benefited from his administrative and business talents, including the Canada Games Council, which he chaired, the Fondation des Jeux du Québec, Ski Québec and Special Olympics Québec.
In regard to his professional background, his 36-year career spans successive roles at Sports Experts and the Forzani Group (FGL Sports), including around ten years as President and Chief Operating Officer of FGL Sports. He now heads up the QSM Group, which oversees retail investments across North America.
Two former INS Québec Chairs are already members of the Panthéon des sports du Québec Hall of Fame: Guylaine Bernier (Athlete, 1996/Chair 2009–2013) and Jean-Guy Ouellet (Builder, 2018/Chair 1997–2000).
Along with Mr. Quinn, the other inductees are Sonia Denoncourt (soccer) for the Builder category, and Lucian Bute (boxing), Guy Carbonneau (hockey), Alex Harvey (cross-country skiing), Caroline Ouellette (hockey) and Marie-Hélène Prémont (mountain biking) for the Athlete Category.
– 30 –