INSTITUT NATIONAL DU SPORT DU QUÉBEC – 25 YEARS OF EVOLUTION AND INNOVATION AT THE SERVICE
ATHLETES AND HIGH PERFORMANCE SPORT
This all came to life on April 11, 1997. With the signing of a declaration by six key partners, the Québec and Canadian sports communities could now count on a new partner. The Centre national multisport – Montréal (CNM-M) was officially created and was dedicated to serving athletes and high performance sport from the outset. This organization, which became the Institut national du sport du Québec (INS Québec) in 2012, is celebrating 25 years of evolution and innovation with the mission of making a difference in the preparation of Olympic and Paralympic athletes training in Québec.
"Since the beginning, we have made our mission a reality by doing everything we can every day to facilitate and improve sports performance so that athletes can achieve their most ambitious goals. As the organization has evolved, so have the ways of doing things. What remains is that we do so by being a performance partner of choice for Québec and Canadian sports organizations by demonstrating innovation and excellence in our interventions."
Jean R. Dupré, Chairman of the Board, INS Québec

"Every day, we want to live up to our motto 'The ingenuity behind the performance'. Over the years, thousands of athletes have been supported by the INS Québec with services and advances in sports medicine, sports science and personal services. Because participation in the Major Games remains the ultimate goal in high performance sport, the Institut's specialists have supported athletes and national teams through 26 Olympic and Paralympic Games (7 winter and 6 summer) since Nagano 1998."
Gaëtan Robitaille, President and CEO, INS Québec
1997-2022 – 25 years of evolution and innovation
Twenty-five years ago, with service centres in Montréal and Québec City, the Institut's project was focused on providing access and functional delivery of medical and scientific services that were not easily available to athletes at the time. In addition, the Institute's mandate was to support coaches by offering them training programs that would allow them to be even more effective and relevant with their athletes.
With the creation of the Centre d'entraînement des sports aquatiques du Québec (CÉSAQ) in 2006 and its establishment at the Montréal Olympic Park in 2007, the project evolved to add a physical location where, for the first time since the mid-1970s, training groups from several sports could be brought together and offered both a training site and on-site services. This was the precursor to what would become the Institut national du sport du Québec.
The mandate was expanded in 2010 to intensify the delivery of athletes and sports services as well as the expansion of professional development initiatives. It is also at this time that INS Québec has been working to extend and strengthen the network of regional multi-sport training centres and single-sport training centres.
In 2014, the opening of the INS Québec Complexe inside the Olympic Park Sports Centre marked the true starting point of the INS Québec project as we now know it. By adding a component dedicated to research and innovation in sports science and sports medicine, this model allows the development and maintenance of access to integrated coaching and services comparable to the best practices worldwide.
Today, the Institut national du sport du Québec consists of dozens of specialists and a pan-Québec network dedicated to the success of high performance athletes and those of the next generation. By focusing on science, innovation and technology, the INS Québec offers cutting-edge solutions powered by experts and partners with the common goal of enabling athletes training in Québec to constantly improve in order to excel on the international stage.
Signatories of the Partners' Joint Declaration for the implementation of the Centre national multisport – Montréal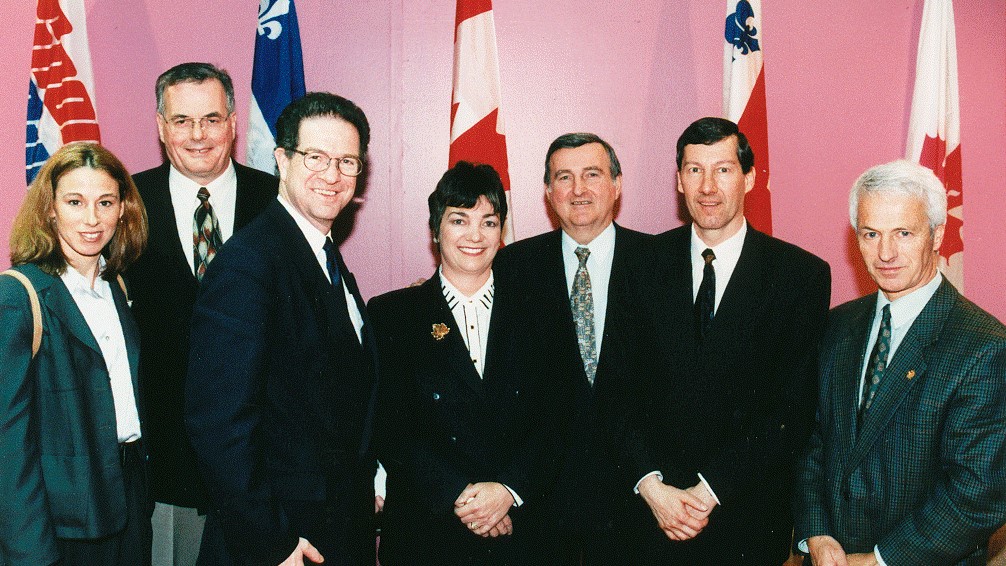 Nathalie Lambert (Coaching Association of Canada), Jean-Guy Ouellet (Sports-Québec and founding chairperson of the CNM-M), Rémy Trudel (Minister responsible for Recreation, Sports and Outdoors), Sheila Copps (Minister of Canadian Heritage), Pierre Bourque (Mayor of Montréal), Jean-Pierre Tibi (1st Executive Director of the CNM-M), Walter Sieber (Canadian Olympic Association)
The first team of the Centre national multisport – Montréal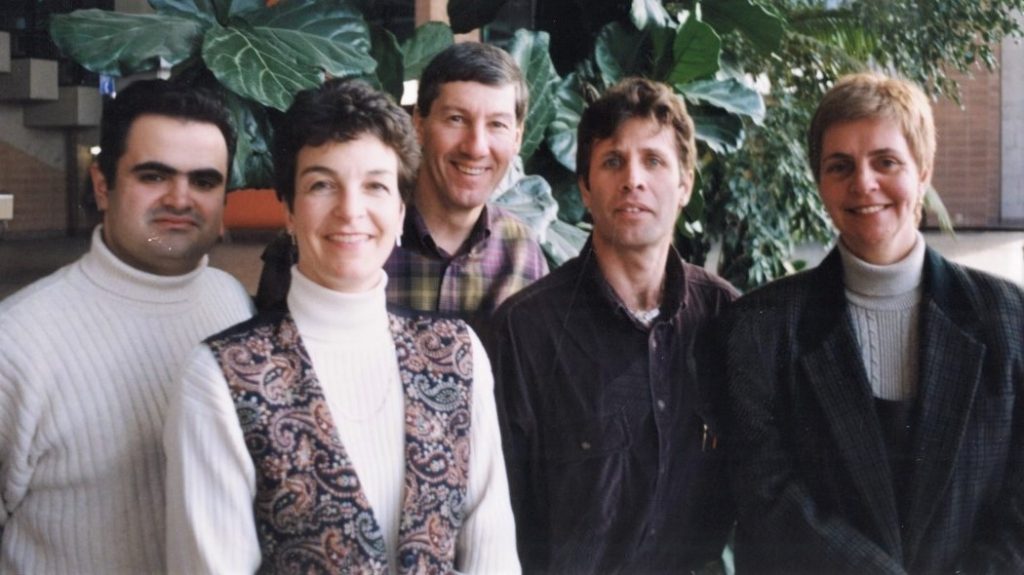 Antoine Atallah (Medical Services Coordinator), Josée Grand'Maître (Athlete Services Coordinator), Jean-Pierre Tibi (Director General), Bernard Petiot (Director of Coaching Education), Hélène Dalpé (Administrative Secretary)
La déclaration commune des partenaires – 11 avril 1997
"It is with a common desire and a deep sense of pride that we are associating and collaborating jointly in the establishment of a national multisport centre in Montréal, a comprehensive partnership project that will allow high-performance athletes and coaches to have privileged access to state-of-the-art services that will maximize their full potential and optimize their performance in major international events."
Gouvernement of Canada – Gouvernement of Québec – Ville de Montréal – Canadian Olympic Association – Coaching Association of Canada – Sports-Québec