WHAT IS COOKING IN ATHLETES' KITCHEN?
Behind the scenes of High Performance Sport
Food diversity is essential for athletes to manage good energy intake for sport related goals. It is also important to realize that each individual is unique and has specific dietary requirements. This influences Erik Sesbreno – Chief Nutritionist at the Institut national du sport du Québec – to work with athletes and coaches to develop world-class nutritional support in the daily training environment and develop evidence-based nutrition plans that focus on the needs of the sport and the athlete.
"Overall, the most effective way to improve your relationship with nutrition is to vary your food and be flexible by listening to your body.'', explains Erik Sesbreno. "With High Performance athletes, I am constantly reminded that a single approach to eating is unhelpful. This is how practical nutritional strategies can be formulated for both their health and athletic performance.'', he adds.
Today, five athletes across different sport disciplines are sharing recipes they have incorporated into their schedule. Each athlete has offered several reasons these recipes work for them.
Tammara Thibeault
Sport discipline: Boxing
Hometown: Saint-George
Age: 24
Sporting career: biography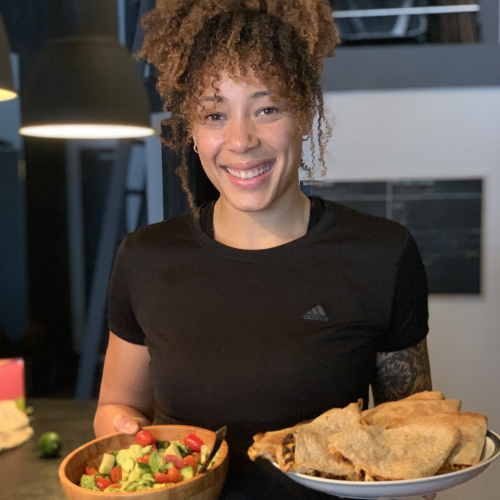 Black bean Quesadillas with summer salad
Ingredients:  Quesadillas (vegetable oil, onions, green peppers, spices (chili, cumin, pepper and salt), black beans, salsa, corn, tortillas, aged cheddar and light sour cream) + Summer salad (avocados, cucumbers, tomatoes)
It's very easy to make!
I get all the nutrients I need in between workouts so that I am ready to go for practice #2.
It's very yummy and I also make extra to keep me going for the next couple of days after.
Greek yogurt with fruits
Ingredients:  Greek yogurt + Fruits (blueberries, raspberries, strawberries and banana)
Provides the right amount of proteins (about 20g) which is what I need, because my sport induces high protein oxidation rates and I need to provide it steady protein intake throughout the day.
Rich in carbs and anti-oxidants. Again, carbs are at the center of my diet, because it's my main fuel when I train. Anti-oxidants are good to avoid negative effects of high oxidation rates associated with heavy training.
It's simple and it tastes good.
Sarah Milette
Sport discipline: Gymnastics – Trampoline
Hometown: Longueuil
Age: 24
Sporting career: biography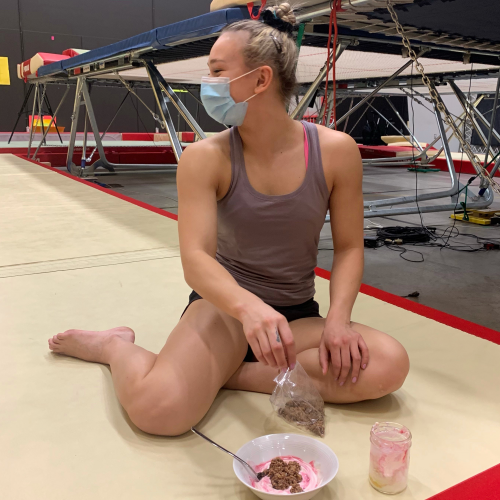 Homemade granola and yogurt
Ingredients: Homemade granola in the oven (oatmeal, brown sugar, coconut oil, almond butter, vanilla extract, maple syrup, dried cranberries, pumpkin seeds, sliced almonds and chia seeds) + Vanilla yogurt, cherries, coconut flakes and honey
My yogurt, fruits and granola snack gives me 19g of protein which is perfect to support my workout.
This snack is easy to carry with me to eat on training day.
It allows me to prepare several servings in advance which is perfect for busy weeks.
Myriam Da Silva Rondeau
Sport discipline: Boxing
Hometown: Chambly
Age: 36
Sporting career: biography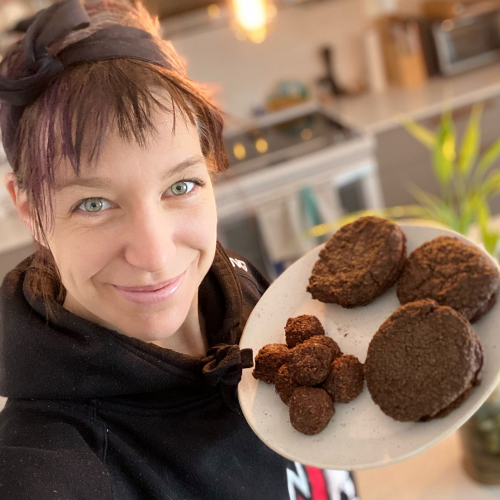 Date cookies
Ingredients: Date puree (pitted dried dates and water), applesauce without sugar, molasses, baking powder, gluten-free organic beet powder, flour and chia seeds in the oven for 15 minutes at 350°F.
Baking my own cookies allows me to eat a good portion to start my day because I have control over the amounts of each food; also, it allows me to add the amount of protein I need and choose the type of protein that works best for me.
Date and cocoa icing adds a little sweetness that makes you smile in addition to being rich in iron.
A balanced breakfast for my physical and mental health.
Steak, potatoes and Greek salad
Ingredients: Hot meal (steak, few scallops and potatoes) + Greek salad (tomatoes, cucumbers, black olives, lettuce, feta cheese, balsamic vinegar, and olive oil)
As a power endurance athlete, I need to create meals to support my protein and nutrient requirements.
For me, consistency and sustainability is key to a health diet (notice the glass of wine)!
I find myself in the best performing mindset when I feel good about myself.
In March, you are encouraged to explore your dietary flexibility and diversity to identify meaningful ways to improve your approach to nutrition for health and fitness as these athletes do over the year.
Healthy eating looks different to everyone. Learning how to adjust recipes to meet your needs can help you eat in a way that works for you. Have you downloaded the Nutrition Month 2021 Recipe eBook? It includes 15 delicious recipes, hand-picked by Dietitians of Canada (DC). Which recipe will you try first?
In a future article, we will discuss another topic in the field of nutrition, but which deserves our full attention. Eating disorders in the athlete are common. Let's talk about it! Let's break taboos so that athletes dare to seek help faster.