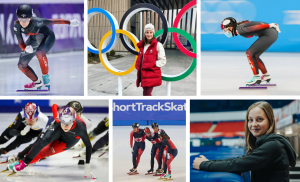 Photo credits : Canadian Olympic Committee / Photo courtesy of Danaé Blais / Speed Skating Canada / Radio-Canada
Personal Details
Sport: Speed Skating – Short Track
Olympic Games: Beijing 2022
Hometown: Châteauguay, Quebec
Q. What was your biggest challenge in qualifying for the Beijing 2022 Games?
A. "Last September, about 2 weeks before the Olympic trials, I suffered a concussion during training. Just one day after my full rehabilitation, I was swept up in a fall with another skater and I cut my left ankle. This slowed me down a lot and I had to double my efforts to get back to a high level of performance to qualify on the Olympic team."
Q. What is the key to managing your rapid success as an athlete?
A. "I try not to put too much pressure on myself, even though I am among the best skaters in my sport. I do a lot of personal work in order not to fall into a trap of performance anxiety. I put my insecurities and fears into perspective and try to enjoy every moment and have fun during the big competitions."
Q. How do you push yourself every day to keep training?
A. "I try to set small technical, tactical or mental objectives every day to become a little better every day. It's the mindset of being able to get a little closer to the best skaters in the world that motivates me and encourages me to keep going.
Q. How do you balance your studies and sport?
A. "With our busy training schedule, I try to study a little every day with 30 minute blocks so I don't fall behind on my homework. I also communicate a lot with the teachers to make arrangements when I am competing abroad. My advice for young athletes would be to find their own balance in their academic journey. My philosophy as a student-athlete is that sometimes it is better to take less classes per semester to give yourself a chance to do well in class, while still performing at your best in your sport. As they say, "too much is like not enough!"
Q. Tell us about a difficult time in your career and how you overcame it?
A. "The last two years have been very difficult. I have been through several challenges in my personal life and with my family and this has led me for the first time to symptoms related to anxiety and depression. This affected my athletic performance a lot and I had to learn to ask for help and not be afraid to ask for it. I came out of it stronger and now I try to advocate the best that I can for mental health in sports and personal wellness of athletes."
Q. How do you respond to victory and defeat?
A. "Winning is always a very proud and happy moment for me. Defeat is never fun to get through, but I try to see it as a learning experience and an opportunity to be resilient.
Q. How would your teammates describe you?
A. "At first look, my teammates described me as very reserved and shy. They soon realized that this is not the case! They would also describe me as a competitive athlete, but one who handles pressure and stress well."
Q. What advice would you give to young people who want to start a career in sports?
A. "Find your own balance in life that allows you to grow as an athlete, but also as a person. Always put your personal well-being first and finally, never forget your love for your sport! That is the only good reason to make a career out of it."